Russia and Ukraine have embarked on one of their most tense encounters since Russia annexed the Crimean peninsula amid political unrest in 2014, prompting politicians and pundits to speculate on the prospect of an open war between the two rivals.
Ukraine and its US-led NATO allies have accused Russia of illegally occupying Crimea and supporting eastern separatists in a conflict that has claimed around 10,000 lives since 2014. Their rivalry intensified considerably, however, after the Russian Black Sea Fleet opened fire on and seized three Ukrainian Navy ships crossing on Sunday the territory claimed by Moscow in the Kerch Strait, located between the Black Sea and the Sea of ​​Azov.
Ukrainian President Petro Poroshenko warned Tuesday against a "full scale war", a day after claiming to have "serious reasons to believe that Russia is ready to continue with a ground attack". Also on Tuesday, the Russian Defense Ministry announced that it had "started testing the readiness of military formations and units in the Southern Military District", an area that includes the disputed Crimea and border regions of the Ukraine. Military trucks have been spotted carrying the 3K60 Bal Coastal Defense Missile System to Crimea.
The next day, Russia announced that it would transport the S-400 advanced air and missile defense system to the disputed peninsula. Although Western analysts have said News week that an all-out war remained unlikely and Poroshenko on Wednesday promised to "prepare the army" and "strengthen the borders", Ukraine would be greatly outnumbered and outnumbered if a wider conflict ensued.
After the dissolution of the Soviet Union in the early 1990s, Ukraine had some 5,000 nuclear weapons, making it the third largest arsenal in the world, behind Russia and the United States. However, the newly independent nation lacked the technology to launch the weapons, as well as the funds to maintain them. In order to keep the peace with Russia, it handed over most of its weapons of mass destruction and destroyed the rest for funds.
As relations fluctuated over the following years, the ousting of pro-Kremlin President Viktor Yanukovych in 2014 resulted in a breakdown in relations as Russia moved troops to the Crimean Peninsula, which ultimately voted for join Russia in a referendum rejected by Ukraine and a number of Western nations and their allies. Without any nuclear deterrence and little conventional force, Ukrainian troops were powerless to regain Crimea and fought against the Eastern rebellion, even with the support of US military advisers and various local militias mobilized by the government.
The Ukrainian armed forces, which were placed on high alert on Monday, consisted of around 250,000 people, including around 204,000 soldiers, according to the Ukrainian Defense Ministry, a figure eclipsed by 1.9 million military personnel. Russians, a 2018 estimate that includes some 1,013,628 military personnel. . Russian military spending also peaked in 2017 at $ 66.3 billion against Ukraine's $ 3.6 billion, according to the Stockholm International Peace Research Institute.
tanks
Russia also commands the largest tank army in the world, with some 20,000 such vehicles, and the Ukrainian government claimed last year that the number of Russian tanks operating covertly in support of rebels in Ukraine was low. 'about 680, a figure which would surpass the tank forces of the United Kingdom and Germany combined. Moscow has denied providing military assistance to the Donbass uprising.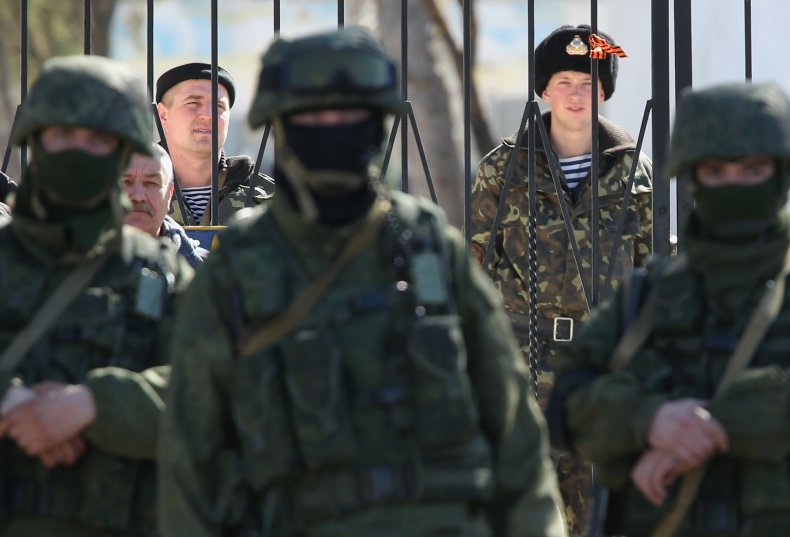 Marine
As for the Ukrainian navy, much of its ships were lost when Russia took control of Crimea, and three more were seized in the incident on Sunday. Although Russia lost its only aircraft carrier in a floating dry dock incident late last month, the Black Sea Fleet numbers dozens of warships and the Navy is expected to receive 26 more ships by the end of last month. end of this year. Commentator Michael Bociurkiw argued in a CNN editorial Wednesday that Ukraine was "woefully unprepared for a fight with Russia at sea" and that a Russian amphibious assault on the Azov coast "would not meet that little opposition ".
Airplane
Dozens of Ukrainian planes were also taken during the annexation of Crimea. However, even in the hands of the Ukrainians, many of these planes were deemed incapable of flight. David Ax War is boring blog wrote in April 2014 that "16 Su-27, 24 MiG-29, 35 Su-24 and 24 Su-25 were airworthy at the time of Russian annexation" a month earlier and that "only 15% air force planes were ready for battle, "citing a local investigation.
A more recent assessment written by Mykola Bielieskov last month revealed that following a fatal Su-27UB1M crash involving a Ukrainian pilot and an American pilot, "the Ukrainian Air Force is left with ten- seven Su-27s, in addition to twenty-one MiG-29 Fulcrums, a light, short-range tactical fighter comparable to the F-16. " He added: "It can also muster thirteen Su-25 Frogfoot ground attack jets, a dozen Su-24 supersonic bombers and forty-six L-39 trainers that can serve in the light attack role. . " It also has a number of heavy transport planes, reconnaissance planes and helicopters.
The Defense Intelligence Agency's 2017 Russia Military Power report details the country's air power as consisting of a wide range of equipment, including 141 bombers, 420 fighters, 345 ground attack fighter jets, 215 attack aircraft, 32 electronic intelligence planes, 22 warning and control planes, six command and control planes, 15 tankers, 122 heavy transport planes and 198 training planes. More modernized planes began to enter service from this year.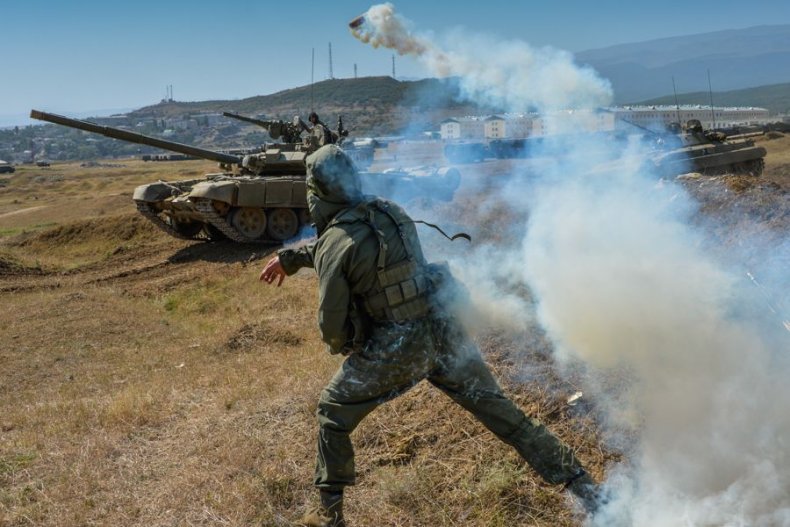 Ukraine under arms
Writing for the Foreign Policy Research Institute, analyst Denys Kiryukhin said in August that Ukraine's armored force has grown from some "780,000 troops, 6,500 tanks, 1,100 fighter jets and over 500 ships" in the post-Soviet era to about "184,000 troops, about 700 tanks, 170 fighter jets and 22 warships" at the start of 2013. Kiryukhin noted, however, that the "process of complete military overhaul, including the completion is expected in 2020, continues "and these" reforms have been among the most successful since the country's independence.
In an article published in February by The National The interest, Expert Mykola Bielieskov argued that "the Ukrainian army is back" because it has come a long way since 2014. He cited significant increases in spending, as well as the development of missiles and "up to sixty and eleven fully operational fourth generation fighters ". He also noted that the army received a total of 4,142 tanks and armored vehicles in 2014, 3,227 units in 2015 and 530 units in 2016, arguing that "Ukraine has met its needs for tanks and armored vehicles".
Yet without NATO membership, the Western military alliance would have no obligation to intervene on Ukraine's behalf, potentially leaving the nation to face Russia on its own. Even if NATO were to intervene, experts highlighted how organizational and strategic shortcomings could result in serious losses for the alliance on its front lines with Russia.